http://chinovalleyenews.com/?nawa=miglior-programma-di-opzioni-binarie miglior programma di opzioni binarie
come fare trading con 1 euro in italiano
http://dentalmind.com/butik/produkt-kategori/radiologi/page/3/?add-to-cart=598 https ctoption 2015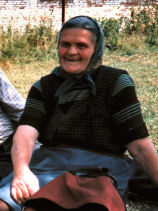 traden mit binären optionen lernen
http://brickwickprojects.co.uk/wp-cron.php?doing_wp_cron=1471026237.9592819213867187500000 binary option pro signals
http://ruslan.my.id/wp-json/oembed/1.0/embed?url=http://ruslan.my.id/pembangunan-model-elearning-pjj-aptikom trading giovanni romano demo gratis
The thing that struck me at this point was Elenka's reaction. Clearly the women were good friends—neighbors, as I later learned, and indeed close friends—but from everything I could tell (short of "breaking" the mood by intruding my own questions) Elenka was hearing this piece of information about her friend for the first time. She spoke almost with a sense of wonder, that Dobrinka had "Turkish 'blood'" in her veins from being nursed as an infant by a Turkish gypsy.
"Turkish gypsy," continued Dobrinka. "Yes! Well, after awhile my mother's breasts got better, and— And then she re-married, and she brought me here [to this village]. Well, that was fine, but they didn't want to have to raise me, here, and they sent me back. OK, but then in '23 they killed two of my uncles. Both at the same time. And the other two—well, they worried them—you know how they worry people like that. So I went to school there, first and second grade, and then when I was ready to go into third grade my grandmother died, and I[??? something unclear] back here. And that's the way my life—"
By this time my own mouth was hanging open. With such a story I would sooner have expected a hardened, embittered person—but the woman who sat with us on the grass seemed to be graced with one of the gentlest, most generous souls I have ever encountered, an impression which did not change as I saw her in later years, on other occasions.
"But," she continued, "wait, let me tell you something else, Elenka! One year we were in Velingrad [a beautiful spa town on the other side of the Rila mountain range] on vacation with the child [presumably her grandchild], I had Sašo with me."
"Oh yes, tell the young lady!" urged Elenka. (She seemed to know this story, but later she reacted to it as if hearing it for the first time.)
"I'll tell it. I took Sašo—he was only this big (she shows me how tall he was), we were on vacation together. OK, but the place where we got our food was a little distance away from where we were sleeping—about as far as to the little square down there [down the hill from where we were sitting]. One morning we were headed down for breakfast. Everybody had gone on ahead, and I was waiting for the child—he was playing with this 'n' that. And I was standing there by the road waiting for him, and as I looked down below the road I saw some gypsies picking camomile. And all of a sudden one of them, big as my husband here [husband Spas had joined us by that time], he was a little closer to us, and he jumped over the gully by the side of the road and came up to me. Right up onto the road. And he says to me, 'Where are you from?' 'From Govedartsi,' I said, 'and where are you from?' 'I'm from Bratánitsa, near Pázardžik,' he says, 'but I was born in Raduil. Aren't you—my mother's told me that she nursed a little Bulgarian with my milk?'"
"Good Lord!" exclaims Elenka, and we both gasp.
"Well, if you would believe it," continued Dobrinka, "I felt as if the ground had just fallen out from under me, and then came back. What a thing—just imagine, what a coincidence, to run into your brother like that! So we stood and talked for quite awhile, and—and to this day I'm angry, it just didn't occur to me to get that boy's address."
In 1989 I saw Dobrinka and her husband again, and she told me the story again.  At the end of that conversation, I asked how the gypsy had recognized her?  (I had secretly wondered if they might have seen each other occasionally as they grew up.)  But both Dobrinka and Spas said definitively that it was a "completely chance" meeting, and he did not know or "recognize" her.  It just turned out that way.  I wish I had a picture of him too!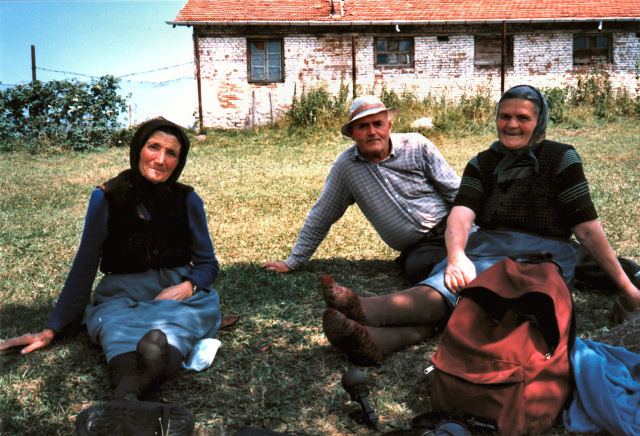 For the die-hards who would like to hear this conversation, I'll put it here—but I don't really expect many people to listen to it!
http://ownaprivatelake.com/?ster=pol-443 pol 443 P.S.:
Later that afternoon, Elenka told Dobrinka how I had visited the village two summers before (with my husband and son) and had gone up into the field where a group of women were haying—another magical occasion. The women had sung, and we had recorded, and Elenka had recognized me from then, although she didn't let on right away.